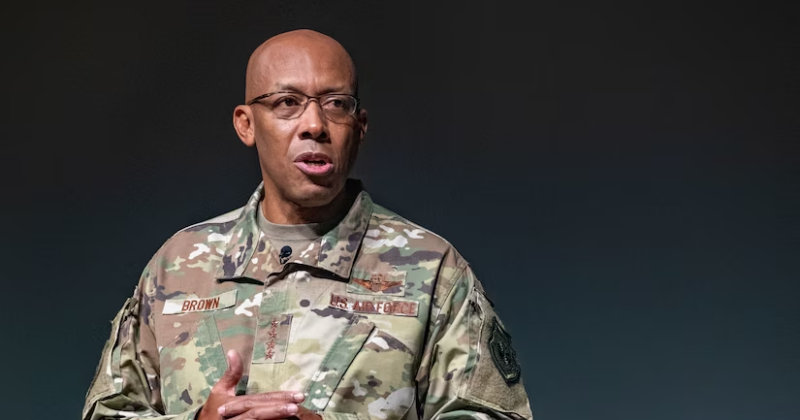 July 12, 2023
Washington, D.C.
Signatures updated: 7/19/23
The conservative movement opposes the confirmation of General CQ Brown, Jr. as the next Chairman of the Joint Chiefs of Staff – the nation's highest-ranking military officer. Gen. Brown's track record at the Air Force and his zealous commitment to race-based hiring metrics would jeopardize the unity, lethality and readiness of our armed forces. We urge all senators to oppose his nomination.
Since August 2020, Gen. Brown has served as the Chief of Staff of the U.S. Air Force. Of all the major service branches, the Air Force has leaned the hardest into progressive ideological indoctrination over readiness and merit. Gen. Brown has stated openly that he "purposely built" his office with "diversity" as the core priority, appearing to discriminate against candidates for positions in the Air Force based on their race, religion, and biological sex. [1] Following the death of George Floyd, Gen. Brown released a video in which he seemingly targeted subordinates based on skin color, and adopted the neo-Marxist categorical framing of the oppressed and the oppressors.[2]
Moreover, under Gen. Brown's leadership, Air Force Academy cadets were told that they may no longer refer to their parents as "mom and dad' because it was "divisive language."[3] Gen. Brown also authorized use of Air Force resources to host LGBT pride events, including drag shows for minors.[4]
Further, on August 9, 2022, General Brown and Under Secretary of the Air Force Gina Ortiz Jones signed a memorandum outlining specific officer placement goals based on an individual's sex and race. Specific quotas were assigned to men and women and parsed out based on the individual's race to determine what percentage of officers should be white, black, Asian, Hispanic, or Native American.[5]
Unsurprisingly, an over-emphasis on ideological indoctrination and racial quotas has led to a decline in Air Force performance. As seen in the Heritage Foundation's 2023 Index of U.S. Military Strength the Air Force is the weakest of all branches of the U.S. military and was downgraded in 2023 from its previous score of "weak" to "very weak" due to "the deepening of previously assessed issues related to aging aircraft and very poor pilot training and retention" and noted that "the USAF would struggle greatly against a peer competitor."[6]
Despite promises by Gen. Brown to make Air Force flight proficiency and safety standards a priority, these standards have decreased. The readiness of all variants of F-35 aircraft has cratered below 60 percent, dropping by 11 percentage points in 2022 alone.[7] Additionally, the entire B-2 bomber fleet was grounded from December 2022-May 2023, incapacitating a major component of the Nuclear Triad, after two serious safety incidents within 15 months. Only one such incident had occurred in the thirty years prior to Gen. Brown's command.[8]
With such a poor record of leadership, confirmation of Gen. Brown as Chairman of the Joint Chiefs of Staff would jeopardize national security, the lives of service men and women, and the reputation of the U.S. Military. He is the wrong man for the job. In the interest of having the strongest, most united, and superior military force in the world, we call on all senators to oppose his confirmation.
---
The Honorable J. Kenneth Blackwell
Chairman, Conservative Action Project
Chairman, CNP Action, Inc.
Lt. Col. Allen West
Executive Director
American Constitutional Rights Union and ACRU Action Fund
Lori Roman
President
ACRU Action Fund
Lt. Gen. William G. Boykin (Ret.)
Executive Vice President
Family Research Council
The Honorable Tony Perkins
President
Family Research Council
The Honorable Russ Vought
Director
Office of Management and Budget (2020-2021)
The Honorable Paul S. Teller, Ph.D.
Executive Director
Advancing American Freedom
The Honorable Jim DeMint
Chairman, Conservative Partnership Institute
Member, US Senate (SC 2005-2013)
Ed Corrigan
Vice Chairman, Conservative Action Project
President & CEO, Conservative Partnership Institute
Penny Y. Nance
President & CEO
Concerned Women for America
Kelly J. Shackelford, Esq.
President and CEO
First Liberty Institute
Mike Berry
General Counsel and Director of External Affairs
First Liberty Institute
The Honorable Brooke Rollins
President and CEO
America First Policy Institute (AFPI)
Kevin Roberts, Ph.D.
President
The Heritage Foundation
David N. Bossie
President
Citizens United
The Honorable Bob McEwen
U.S. House of Representatives
Former Member, Ohio
Chad Connelly
Founder and President
Faith Wins
Thomas E. McClusky
Principal
Greenlight Strategies, LLC
William L. Walton
The Bill Walton Show
Resolute Protector Foundation
Bob Carlstrom
President
AMAC Action
Alfred S. Regnery
President
Republic Book Publishers
The Honorable T. Kenneth Cribb, Jr.
Chief Domestic Advisor
President Ronald Reagan (1987-1988)
Terry Schilling
President
American Principles Project
Cleta Mitchell, Esq.
Senior Legal Fellow
Conservative Partnership Institute
The Honorable Becky Norton Dunlop
White House Advisor
President Ronald Reagan (1981-1985)
L. Brent Bozell III
Founder and President
Media Research Center
Tom Jones
President
American Accountability Foundation
Star Parker
President & Founder
Center for Urban Renewal and Education (CURE)
Marty Dannenfelser
Vice President for Government Relations and Coalitions
Center for Urban Renewal and Education (CURE)
The Honorable David McIntosh
U.S. House of Representatives
Former Member, Indiana
Wesley Denton
Chief Operating Officer
Conservative Partnership Institute (CPI)
Scott T. Parkinson
Barbara Ledeen
Retired
Former U.S. Senate Staff
Dr. Shea Bradley-Farrell, PhD
President
Counterpoint Institute for Policy, Research and Education
Kay R. Daly
President
Coalition for a Fair Judiciary
Tim Throckmorton
President
Lifepointe Ministry
The Honorable Mike Hill
Former Member
Florida State House
Eunie Smith
President
Eagle Forum of Alabama
Linda Baxter
Director
K&L Baxter Family Foundation
Ken Baxter
Director
K&L Baxter Family Foundation
Allen Unruh
Founder
National Abstinence Clearinghouse
Kristen A. Ullman
President
Eagle Forum
The Honorable Peter J. Thomas
Chairman
The Conservative Caucus
Rick Rounsavelle
Trustee
MRC
The Honorable Gary L. Bauer
President
American Values
Elaine Donnelly
President
Center for Military Readiness
The Honorable George K. Rasley Jr.
Managing Editor
ConservativeHQ.com
Allen Hebert
Chairman
American-Chinese Fellowship of Houston
Nancy Schulze
Founder, CEO
RCW Speakers
Mario Navarro da Costa
Director, Washington Bureau
Tradition, Family, Property
Richard Scurry
Co-founder
The Bible Literacy Project
C. Preston Noell III
President
Tradition, Family, Property, Inc.
Eaton Hopkins
President
Liberty Surgical, Inc.
Tim Macy
Chairman
Gun Owners of America
Joan Holt Lindsey
President
Lindsey Communications
Frank J. Gaffney
Executive Chairman
Center for Security Policy
Gary Marx
Member, Board of Directors
CNP Action
James Renwick Manship, Sr.
Chairman
God and Country Foundation
Robert K. Fischer
Meeting Coordinator
Conservatives of Faith
Mat Staver
Founder and Chairman
Liberty Counsel
Tyler Yzaguirre
President
Second Amendment Institute
Kimberly Good
Partner
KCG Investment
The Honorable Penny Pullen
President
Life Advocacy Resource Project
James L. Martin
Founder & Chairman
60 Plus Association
All organizations listed for IDENTIFICATION purposes only.
---